Detailed information with images on how to  order:   https://www.kustomproductsinc.com/blogs/blog/how-to-properly-order-your-recipe-cutting-board
**Please also see color variations in images & instructions**
✧CUTTING BOARD SPECIFICATIONS✧
➽Rectangular Cutting Board with Heart Cutout
➽Maple or Cherry Wood
➽Board Measurements: 9 " X 12 " X 3/4"
➽Horizontal Direction ONLY

➽Our website is placed in a very small area  on the back of the
cutting board. We have our boards made this way,
it cannot be removed.
◈◈NOTE◈◈
All recipes must be sent in a high resolution photo, scanned image,
or Word document ONLY.  Due to the poor quality of photos we have
received, please read ALL the directions in the listing. The writing on the
recipe must be legible and all recipes must be in a single image.  Please
combine your 2-sided recipes and trace the words of the recipe if the writing
is light/hard to read, per the listing instructions.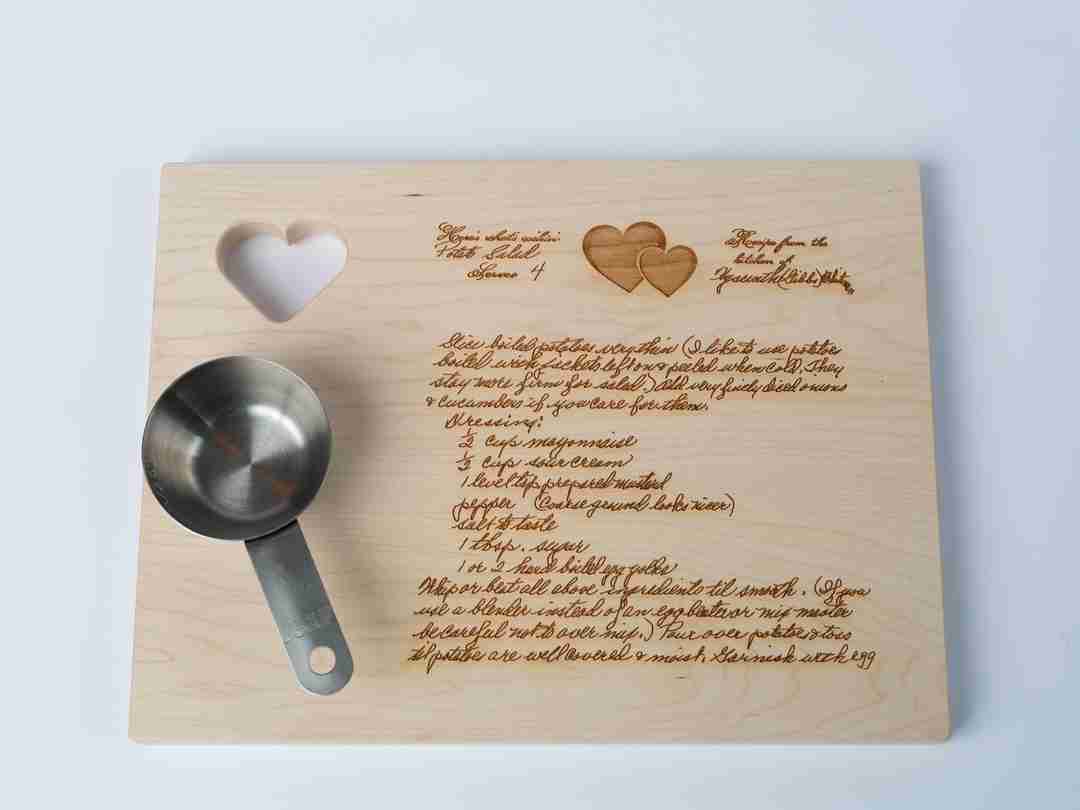 This personalized cutting board turns a
family recipe into a cherished heirloom!

PLEASE READ BELOW FOR ALL DETAILS/QUESTIONS.
✸✸WE WILL DO THE FOLLOW FOR YOU AT NO EXTRA COST✸✸
-Enhance the writing (all writing must be clearly legible)
-Remove all lines and images other than the writing

✸✸THINGS WE DO NOT DO✸✸ 
-We do not move words around on your recipe or add words to your recipe
-We do not straighten/adjust the writing. Please make sure if you take a picture of your recipe that you take it straight overhead. If your recipe is slanted in the picture it will be slanted on the cutting board.

✸✸WHAT TO DO IF THE RECIPE WRITING IS REALLY LIGHT✸✸ 
If you do not have a clear copy we highly recommend you making a photo copy of the recipe and then outline the writing by hand in a dark pen/black marker. You can then scan that recipe and send it back to us in black and white

✸✸HOW TO COMBINE YOUR RECIPE INTO ONE IMAGE✸✸ 
Please only use one photo upload for your recipe. If you have a back and front recipe, please combine the pictures into one and upload the single picture. When combining the pictures please note the following:
➽Vertical style: please combine pictures so that they are on top of each other
➽Horizontal style: please combine pictures so they are side by side