Recipe Cutting Board Traced In Your Loved One's Handwriting
Want To Be Informed Of Our Pre-Black Friday Cutting Board Sale? It Starts On November 12th, will be our biggest discount on our Cutting Boards this year (and for the rest of it!)
For Our Email Customers Only!
Our Recipe Cutting Boards Are SO Popular They Have Been Featured In:
📢Redbook Magazine
📢People
📢CTV "The Social" with Meredith Shaw
📢Good House Keeping
📢Esquire
📢Bustle
📢Buzzfeed
📢House Beautiful
                                                                        ......and many more!!
You Can Check Out The Cutting Board Options By Clicking HERE!
This Discount Will Apply To ALL of our Recipe Cutting Board Options!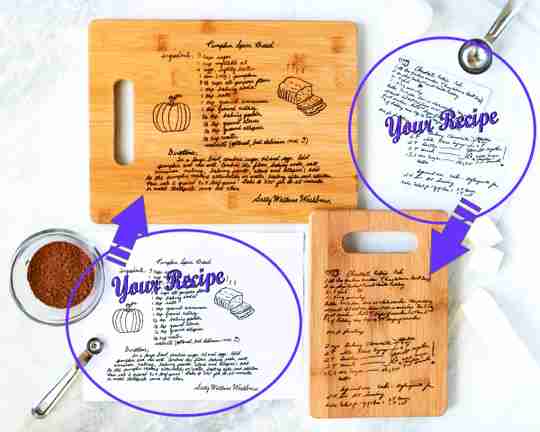 How Do We Do It?
#1. You send us an image of the recipe you want in your loved ones handwriting
#2. Our graphic team hand traces over every letter of your loved ones handwriting so it is an exact match
#3. We remove any scratched out words, lines and spill marks
#4. We engrave your loved one's handwriting onto the cutting board your purchased
✔️Hand Traced To Exactly Replicate Your Loved Ones Handwriting
✔️Offered in Bamboo, Maple or Slate
✔️A Personalized Gift That Becomes A Family Heirloom
✔️So Custom & Special It Will Be Kept Forever
Here Is What Some Of Our Customers Say: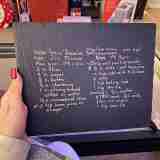 "I bought this as a Mother's Day gift for my mother, with one of my grandmother's handwritten recipes etched into it. I had it shipped to myself first so I could look at it before I sent it to my mother. It was beautiful and absolutely perfect and I couldn't wait to ship it to my mother. She cried when she opened it up. Thank you so much for such an incredible gift! It was so beautifully created." -Kathy V.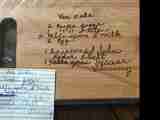 "AMAZING SPECIAL GIFT - we had an old recipe in very hard to read handwriting that she was able to duplicate on the cutting board and worked with us to make sure any additional art worked well in the space. This gift brought tears to my mother's eyes (it was HER mother's recipe) and will be passed down in our family now for generations. Cannot say enough about this!!! THANK YOU" -lizaroyce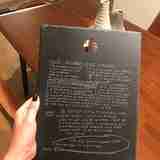 "OMG! My mom was a wonderful cook! My children and I LOVED her cooking. When she passed away 2 years ago, a huge hole was left in all of our lives. When I saw this item  I KNEW I had to purchase one and I KNEW the exact recipe that I wanted engraved on the cutting board. I purchased the board as a Christmas present for my daughter along with a special cooking pan to go with it. The board arrived today. I cried when I opened it. First, it brought back TONS of memories of my mom, and second, the cutting board was more beautiful that I could have ever asked for. BEST. GIFT. EVER."  -Barbara F
There is a reason why the kitchen is the heart of the home because it is the heart and the soul of the people we love that goes into making each family recipe...
Check Out Some Of Our Customer's Images:
Make Sure To Enter In Your Email Below To Be Notified When We Launch The Biggest Recipe Cutting Board Sale We Will Have This Year!! 
We Look Forward To Making Your Loved One's Handwriting Into An Heirloom That Will Be Pasted Down For Generations!
You Can Check Out The Different Cutting Board Options By Clicking HERE!