Detailed information with images on how to order: https://www.kustomproductsinc.com/blogs/blog/how-to-properly-order-your-recipe-cutting-board
✧SPECIFICATIONS✧
➽Bamboo Rectangle
➽Medium Board Measurements: 11 -1/2 x 8 -3/4 x 9/16
➽HORIZONTAL direction: Handle at the left, recipe engraved to the right
➽VERTICAL direction: Handle at the top, recipe engraved below
➽Our website is placed in a very small area above the handle on the back of the cutting board. We have our boards made this way, it cannot be removed.
◈NOTE: No two pieces are alike, so the board might slightly differ in color and grain pattern from board to board, or from the different bamboo slats in the board. By purchasing this item, you agree that boards will be unique and have character.
✧HOW DO WE DO IT?✧
Creating the Family Recipe Cutting Board was inspired by owner Kate McNeeley wanting to gift her mother and extended family something that would always remind them of her late Grandmother. She collected a favorite recipe in her Grandmother's handwriting, hand traced the recipe to match her Grandmother's writing, and converted the traced recipe so that she could engrave it onto a Bamboo Cutting Board. She gifted these cutting boards to her family, who now each have her Grandmother's favorite recipe hanging on their wall. 
In this same way, we now take your loved one's recipe, hand trace their writing, and engrave it onto your cutting board so that you're able to recreate their recipe and have a cherished Family Heirloom! 
✸✸WE WILL DO THE FOLLOW FOR YOU AT NO EXTRA COST✸✸
-Enhance the writing (all writing must be clearly legible)
-Remove all lines and images other than the writing

✸✸THINGS WE DO NOT DO✸✸ 
-We do not engrave pictures/borders
-We do not move words around on your recipe or add words to your recipe
-We do not straighten/adjust the writing. Please make sure if you take a picture of your recipe that you take it straight overhead. If your recipe is slanted in the picture it will be slanted on the cutting board.

✸✸WHAT TO DO IF THE RECIPE WRITING IS REALLY LIGHT✸✸ 
If you do not have a clear copy we highly recommend you making a photo copy of the recipe and outline the writing by hand in a dark pen/black marker. 

✸✸HOW TO COMBINE YOUR RECIPE INTO ONE IMAGE✸✸ 
Please only use one photo upload for your recipe. If you have a back and front recipe, please combine the pictures into one and upload the single picture. Please note the following:
➽If you chose vertical: please combine the pictures so that they are on top of each other
➽If you chose horizontal: please combine the pictures so that they are to the right and left of each other
Customer Reviews
Write a Review
Ask a Question
05/31/2020
Jessica G.
United States
05/25/2020
Carrie P.
United States
Personalized Recipe Cutting Board
The item was beautiful. My adult son exclaimed "Oh mom, it's in your own handwriting" and as he ran his fingers over the words he immediately noticed they were engraved. We were both extremely pleased and impressed! The customer service was above exceptional - courteous, quick, and made me feel comfortable with the process. I highly recommend this company for this product.
05/18/2020
Sydney F.
United States
Excellent Service
Originally when I ordered my cutting board it arrived and looked lovely, yet there was a crack down the middle. I was worried about not having my gift in time for mother's day, but I reached out to Kustom Products and told them what happened and they were so helpful. They sent me a brand new board that was just as beautiful and since they had my recipe saved on file all I had to do was wait for the new board. They sent it right away and it got here in time. They were so nice and I really appreciated the wonderful customer service!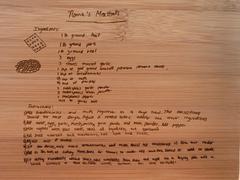 05/16/2020
Colleen M.
United States
Recipe cutting board
wonderful! It turned out beautifully and mo mother LOVED her mothers day gift.
05/13/2020
Kathryn F.
United States
Amazing
The entire process was perfect from the time I ordered until I gave the cutting board to my daughter in law for Mother's Day. It was beautiful and came out perfect, I couldn't have ask for more.