Gone are the days when gifts were a matter of choosing between the few available options. You now have an unlimited number of choices, especially in customizing your presents to suit your needs. These glasses are not just an ordinary pair of 'high quality' wine glasses. This pair of professionally crafted wine glasses customized with a laser which etches in a beautiful design. That's right! We don't just offer you plain and boring glasses. We give you an added benefit of our etch work at no additional cost. We are not just focusing on quality, but also on bringing in new styles and adding new innovative ways for customers to fully customize the wine glasses themselves. The etch work is particularly pleasing because of its finesse. Since this work is done via a precision laser using the best and highest possible tech available, you get perfect results every time. We also offer you the opportunity to add a bit of color to these superb glasses. All you need to do is pick a color out and voila, you're done! The color is rubbed into the etching and provides some very nice effects giving the etching a little "pop". Please hand wash all color filled items because the harsh abrasives of dish washing soap can chip away at the color.
Customer Reviews
Write a Review
Ask a Question
02/23/2020
jD K.
United States
Beautiful glasses, perfectly scripted
From start to finish, this process was easy and worked out perfectly with my express delivery needs. The glasses were perfect and made me look like a super hero for our 5th anniversary! I used Kustom products for the bridal gifts and groomsman flasks and pocket knives! They are all still in great shape, and used often!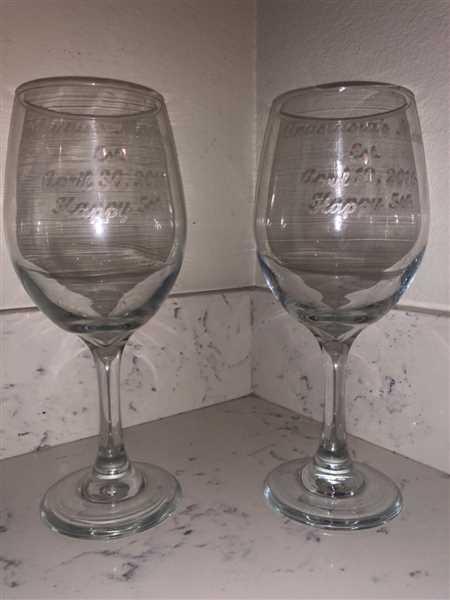 Excellent customer service, excellent quality!
They Can't Break
I mean it, I don;t think these glasses can break. I had them in a box with nothing but other glasses in my car and had to hit the breaks because someone cut me off. I was super upset because I know for sure that the entire box was broken after it went flying against my chair and crashed into everything along the way. NOT A SINGLE BROKEN GLASS> I don't understand how but thank you!!!! Great quality.
Beautifully done! So simple yet so elegant.
Gorgeous! Beautiful work, quick shipping, fast replies to questions. Would definitely recommend this shop!